UCI GP Adrie van der Poel
2019 photos: Stan Koolen
The GP Adrie van Der Poel is a cyclocross race that is organized annually in the Dutch town of Hoogerheide. In 2009 and 2014, the cyclocross world championship was held on this course.
I was invited by Canyon the Netherlands to shoot a couple of images of the Canyon booth, but most of all some of the canyon sponsored riders like Mathieu van der Poel and Ceylin del Carmen Alvarado, before and during the race.
Let's have a look at what goes down before the race. At Team Alpecin Fenix you can even see legend and father of Mathieu, Adrie van der Poel, working on the bikes. Making sure everything is clean and working before the race starts.
Before we go over to the men's race, an epic final round in the womens race crowns the 2019-2020 Telenet UCI World Cup winners. An thrilling 2019-2020 Telenet UCI-Cyclo-cross World Cup season has come to an end in Hoogerheide.

The final battles were held on Sunday 26 January, and crowned winners in five different categories: Women and Men Elite, Women and Men Under 23, and Men Junior. Let's have a look at how the 2019-2020 Telenet UCI World Cup heroes of the Women and Men Elite made their way to victory. Starting with Ceylin del Carmen Alvarado and Mathieu van der Poel later on.
The Alpecin-Fenix rider, Ceylin Alvarado, went into the last round of the World Cup with a five-point lead over her closest rival Annemarie Worst. However, Alvarado cruelly saw her overall ambitions in the womens cyclocross World Cup go up in smoke due to a crash in the last 200m of the race, on the off-camber section. Good thing she won the world championships a week later.


Over to the men's race, Mathieu van der Poel getting ready for the race. And showing some love for the fans.
As most of the time, a great start for Mathieu van der Poel, first postion into the first corner and over the bridge.
Only Toon Aerts was able to stay near him, but the duo then decided it was too early to continue their efforts. What followed was a tactical race. After Mathieus early acceleration, he opted to sit back and bide his time. When he eventually attacked, Aerts and Iserbyt were unable to keep up with Van der Poel.
"There was a such a big crowd today and it wasn't an easy race. I felt strong while riding in the group and put all my money on one big move. I think that I found back my 'cross accelerations just in time," Van der Poel said.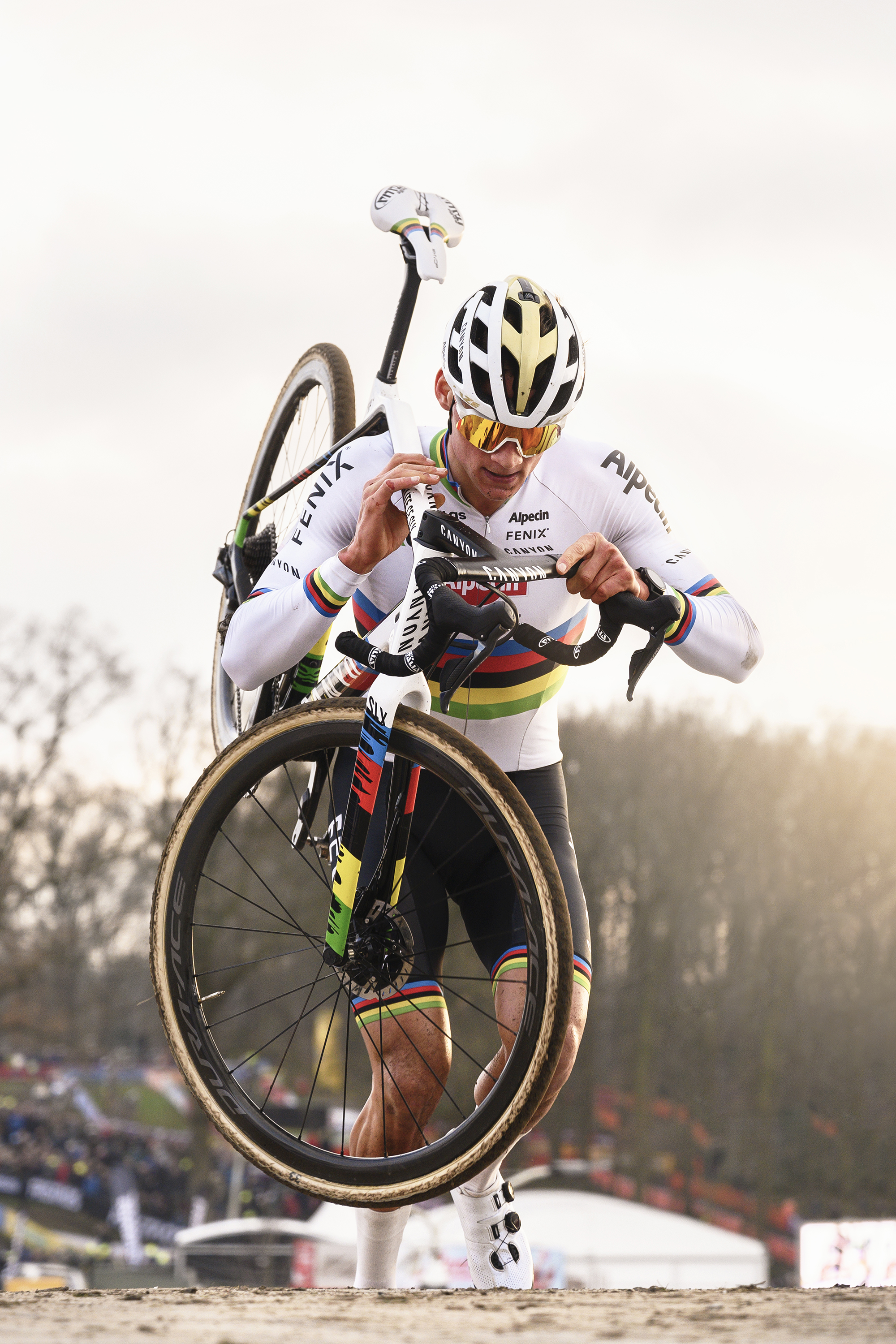 Van der Poel eased back in the final lap as he soaked up the moment, with over 25.000 cyclocross fans. He won the race also named after his father, Adrie van der Poel, by 38 seconds. It was another dominant win for the Dutchman.
Extra photos of van Aert, Pidcock and David van der Poel taking the stairs