SNOBICI Essentials - Maike Frye
2020 photos:

Yunus Hutterer

, Maike Frye
Name: Maike Frye
Age: 36
Location: Hamburg, Germany
Profession: Scientist
Why cycling?
In 2013, my friends founded Rad Race (@RadRace) and I helped out with the organization of the first bike events. Especially, fixed gear cycling was very exciting to me in the early days. Therefore, when I moved to Sweden in summer 2014, I build my first LOOK fixed gear bike. In those days, I met a lot of great people from the Stockholm bike messenger scene. (I even won the Swedish bike messenger championships in 2017). From my LOOK, I expanded to a bomb track frame to ride in the Swedish velodrome. I bought my first canyon road bike (influenced by @engelhai) in 2015 and never fell out of love for canyon after.

Today, I am part of the coolest team (not an objective assessment of course). In Hamburg, I ride with the @grl.pck and @canyonradpack. Cycling is MY way to clear my head after long days in my laboratory.
What is your favorite cycling destination and why?
French alps, definitely. I absolutely love to ride the French passes in summer. However, for an early year training camp, I prefer Gran Canaria. It has a special place in my heart, because I trained there several times with my Norwegian and Swedish friends.

What is your favorite essential and why?
My grlpck sweater. I am so lucky to be part of a team with so many creative minds (not me, at least not in the design category) and I love how they design our kits, casual wear, accessories with a unique style.

What is your favorite race and why?
Tour de France, just because I had the chance to visit a few races in summer 2019. It was less about the TdF circus itself, but rather a combination of summer days, cycling the routes myself before or after the pros and watching the final 30-80k in our outdoor camping restaurant area with a cold beer after a long day in the saddle.

What is your favorite mid ride (coffee) stop or hotspot?

There is no discussion. It is our new "club house" the @radraceshop close by the Hamburg harbour. I just wish for less SARS-CoV-2 infections, so we can finally start to hang out properly again.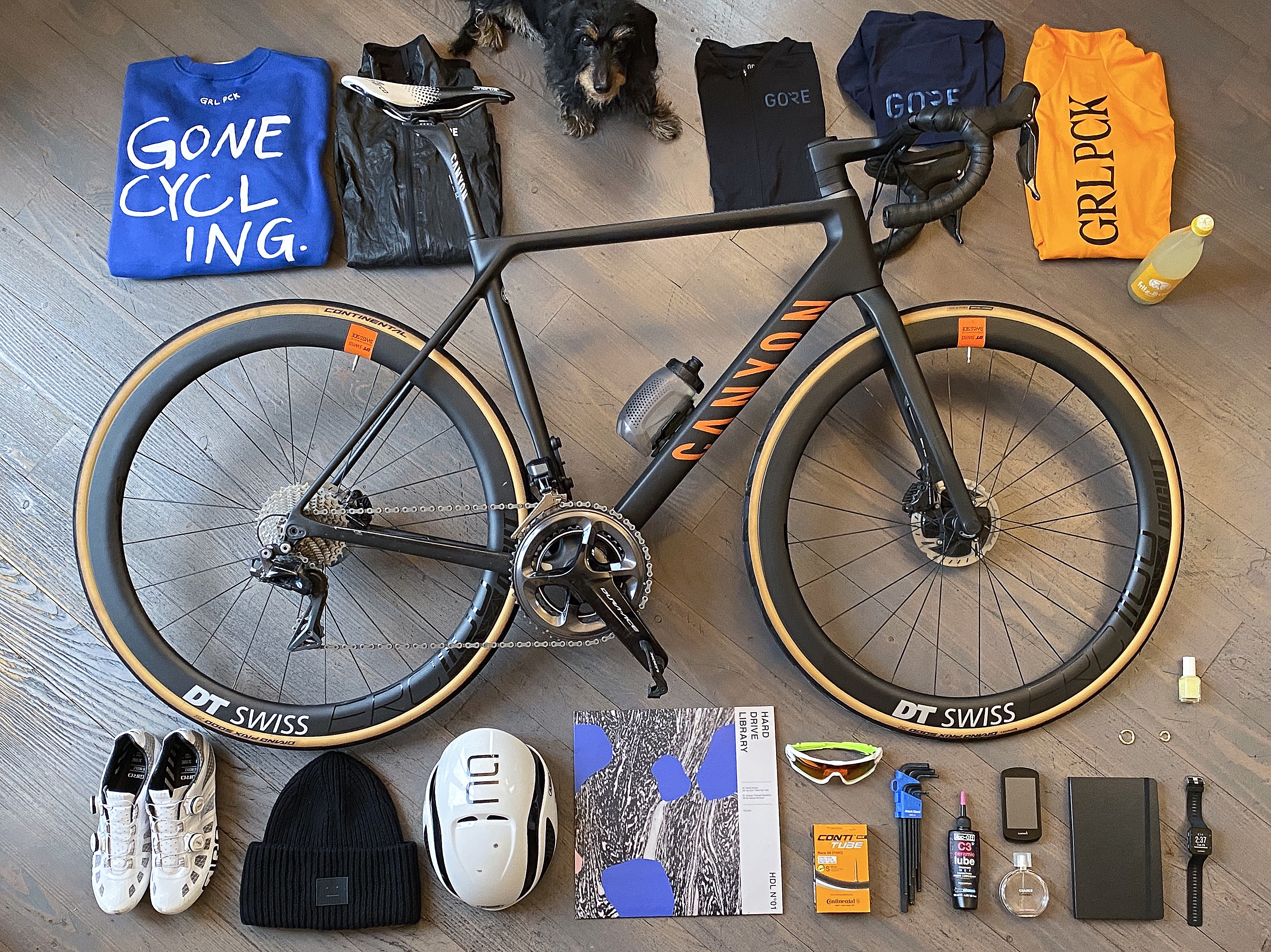 Canyon Ultimate CF SLX 9 Disc Di2, DT Swiss ERC1100
Gone Cycling grlpck sweater
Gorewear Shakedry C7 rain jacket, the absolute must have to survive rain days in Hamburg
Lotte (Dachshund)
Gorewear Chase jersey (coming summer 2021)
Gorewear C7 Women long distance bib
Gorewear C5 Thermo jersey
FritzCola lemonade
Giro Imperial shoes
Acne Studios black beanie
Abus Gamechanger helmet
The good stuff for the ears by Hard Drive Library ‎– Vinyl HDL N°01
Oakley jawbreaker glasses
Continental Conti tubes
Parktool hex wrench set
MucOff chain lube
Garmin 1030 Edge Plus

Chanel Chance Eau Tendre (my one and only perfume)

Moleskine 2021 planer (Could never live without)

Garmin forerunner watch

Saskia Diez bold ear cuff No. 2 and No.3 (I like earrings. Saskia Diez's ear cuffs are most perfect for cycling as they do not interfere with the helmet)

Essie nail polish light yellow (The grlpck is crazy about nail polish, so here is my current favorite)