SNOBICI Essentials - Anthony Richelot
2020 photos: Anthony
Name: Anthony Richelot @nthnyrchlt
Age: 27
Location: Paris, France
Profession: Freelancer
Why cycling?
I started cycling when I moved to Paris, in 2014, to finish my architectural studies. Going by bike was a better way for me to discover this unknown city.

On a wednes daynight, on my way home, I bumped in a group of fixed gear riders. RDM ( Ride Du Mercredi). Since that day, my life in Paris has totally changed. Thanks to the group, I've had many friendly, professional and even romantic meetings there.

Subsequently, I discovered the fixed gear competitions (Rad Race, NMC, Red Hook Crit etc ) and during this period of time I also had my first sponsors. It was a new world that opened up to me.

Today, for me, cycling is a meaning of expression. Let me take it one step further... I would say it is a meaning of emancipation.
What is your favorite cycling destination and why?
My favourite place is Saint Cloud Park. It's just outside of Paris. There's an atmosphere that soothes me, I feel good there. I love cycling there.

What is your favorite essential and why?
If I had to choose only one thing, it's sad to say because I love my camera's, but it's my iPhone. I can do everything with it! Take video in 4K, take beautiful pictures, use it as a gps, pay for my coffee, etc. If it could have a battery that lasts forever, it would be a dream come true. But also, it's practical for packing light on the bike.

What is your favorite race and why?
I love the Classics. Because of the racing format. Otherwise, I love the Belgian Cyclo-cross championships, I absolutely have to see one!

What is your favorite mid ride (coffee) stop or hotspot?
Without hesitation, Versailles. World famous for its castle and gardens, the site is part of the World Heritage Site. The city was born from the will of King Louis XIV, directed by Jules Hardouin Mansart, first architect, and André Le Nôtre, gardener.

There's no better place than the Notre-Dame market square for a ravito. A crossroads of colours and flavours, I always take the opportunity to buy a few fruits, sandwiches or snacks. This market has been elected "the most beautiful market in the Ile-de-France region"!

Did you know that the city of Versailles was the inspiration of the urban structure of London, St. Petersburg and Washington for most of the part?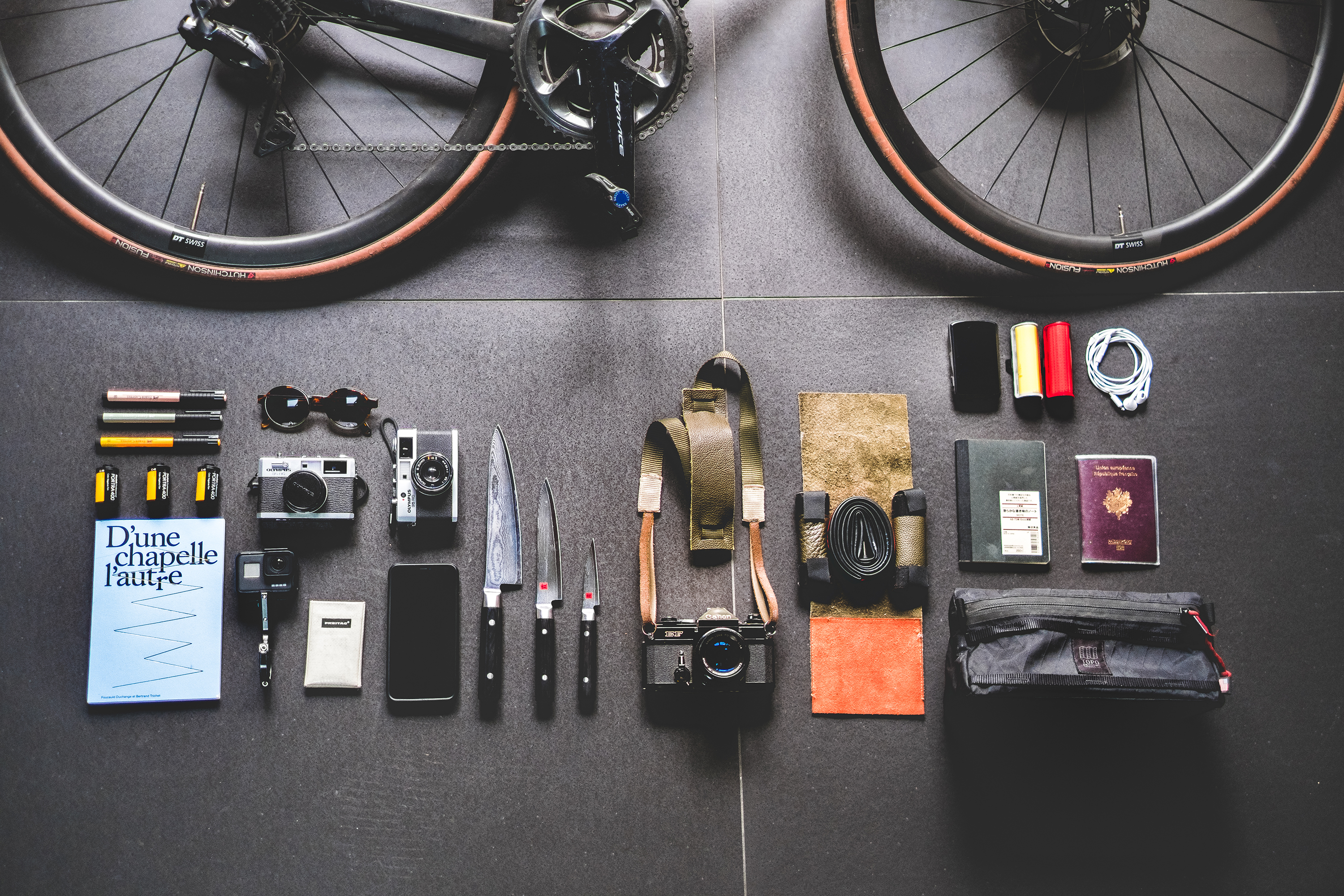 Heroin bike HR / Shimano dura ace disc / Look srm pedals / Hutchinson fusion 5 tan 25mm
Faber-Castell Pencil
Kodak portra 400 film
D'une chapelle l'autre, limited 500 ex bicycle book from Foucauld Duchange and Bertrand Trichet
Jimmy Fairly sunglasses
Camera Olympus 35 RC 1960 / Canon Ef 1973
GoPro Hero8
Freitag wallet
Apple Iphone XS Max
Kasumi knives, I love Japanese culture
Handmade leather toolbag (prototype)
Hammerhead Karoo 2
Knog Cobber lights
Apple headphones. I love rap, techno, deep house, funk, soul, disco music. I simply love music
Muji notebook
My passport to travel
Topo designs handlebar bag