Rapha Pro Team shoes
2020 photos: Stan Koolen
At the Tour Down Under we already saw a glimpse of the Rapha Pro Team shoes worn by some of the riders of Team EF Pro cycling. It's described as the brand's first shoe designed specifically for road racing. But we all know that the majority of the market isn't racing, including me, so let's see how these shoes hold up for the casual rider. The Pro Team shoes join the Classic and Explore shoes, both released last year, in Rapha's range But are very different in that the uppers are made from Powerweave rather than microfibre, and feature a Boa dial closure rather than laces.

After the first images showed up on the net, I got in contact with Rapha, if I could try, test, and review the new shoes. Once they arrived I was immediately impressed with the design, and I haven't even opened the box yet. You definitely can tell it's a rapha product, no detail was left behind even the design of the box, the extra musette and the fact that the shoes are wrapped in a fictitious Italian cycling newspaper shows someone paid a lot of attention to the presentation.

When opening the box a big smile appears on my face. A beautifully made white pair of cycling shoes is looking straight at me. The first thing you notice is the design of the shoes, you have to blink your eyes a couple of times to really focus on the design. It plays with your eyes and mind for a bit. It looks like something I encounter a lot in photography called "Moiré pattern". A Moiré pattern is an interference pattern produced by overlaying similar but slightly offset templates. In my opinion, a great way to amplify the pattern of woven yarns. A nice little detail is Rapha's signature strap woven in.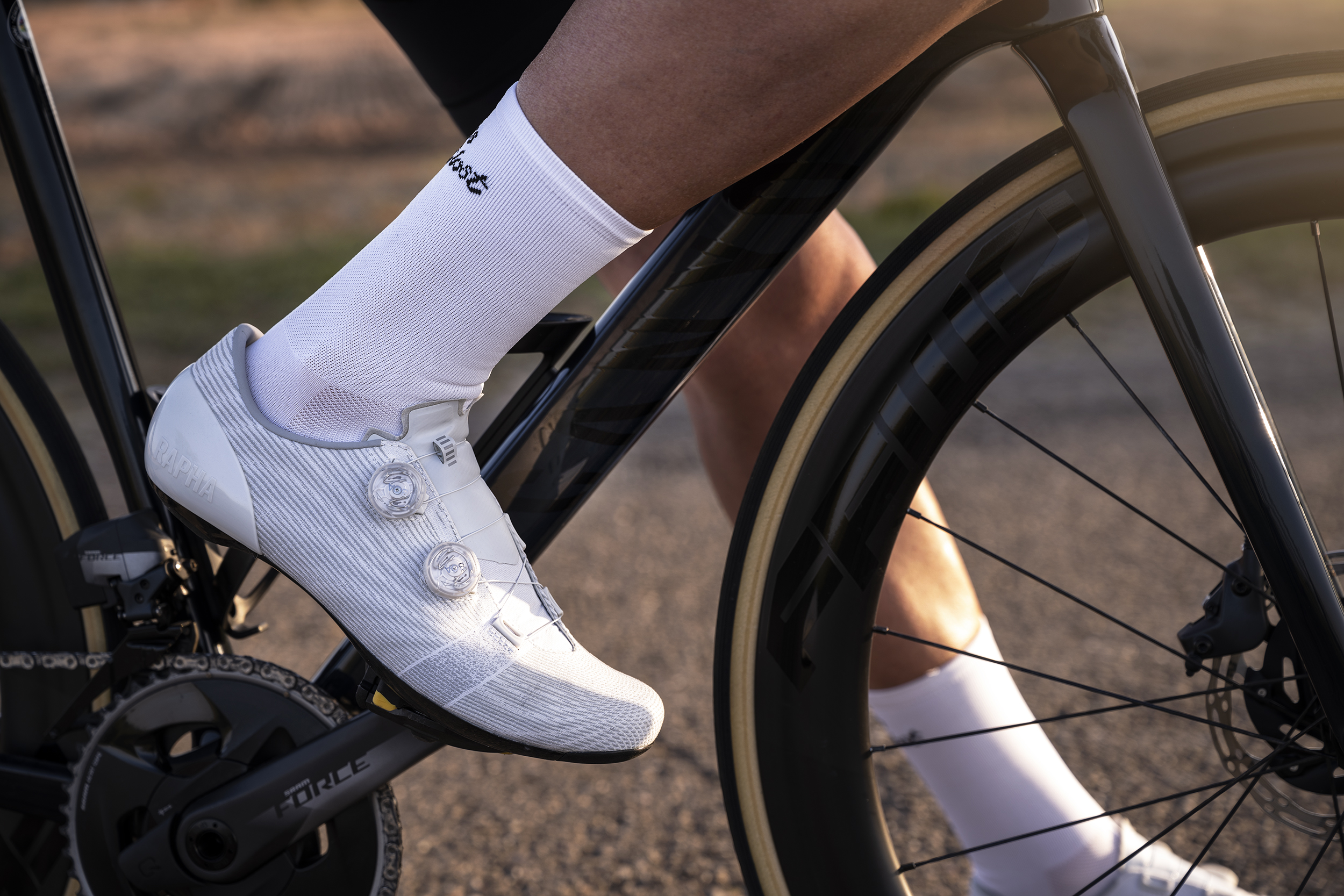 First Impressions

While at first glance, it may look like Rapha followed many other brands in making a knitted cycling shoe, but this is actually not the case with these shoes. They're different than other brands, in that the uppers are made from Powerweave. We've seen a lot of shoes with knitted uppers lately, but a woven upper is different. Whereas a knit fabric is made up of a single yarn, a woven fabric comprises multiple yarns, something we've already seen in some of the high-end shoes of the French cycling brand Mavic. A woven material can be more supportive with lighter weight, it allowed Rapha to build in comfort where it's needed and strength where that's most important.

The entire upper section is made with a single seamless piece of woven polyester fabric. It's hard to describe what it feels like, is it denim or more something like canvas? It's actually hard to tell, It feels soft but at the same time, it's very stiff and strong, something I haven't felt before.

Rapha says the woven material, "allows the upper to hug the foot perfectly, for improved comfort and reduced friction, while being stronger and possessing less stretch than materials such as microfiber or knit, thus aiding power transfer."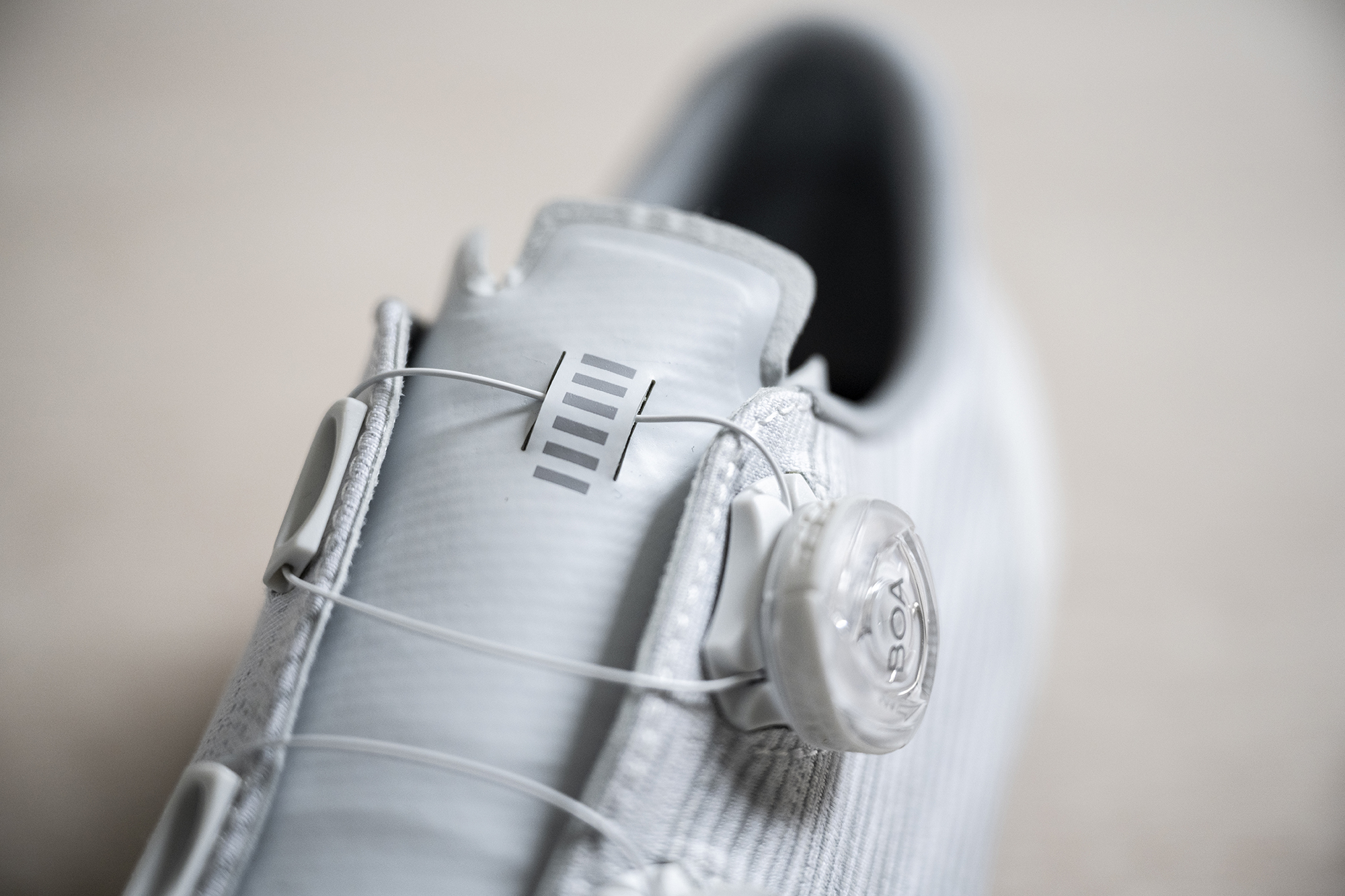 Fit

Straight out of the box, the Pro Team Powerweave shoes were super comfortable, hot-spot free, and perfectly true to size. Ordered a size EU46, while in most shoes I have a 46,5 or even a 47. The shoes look narrow but the fabric works like a sock and accomodates my wider and probably weird shaped feet perfectly.

It's difficult of course to recommend a shoe as the fit is such a personal thing, but I can't find many people on the web having complaints with the overall fit of these shoes. The Powerweave is surprisingly forgiving, like you've worn it for days and got rid of the hot spots and pinch points. Also for people with wider feet, as I do, I find the shoes to have the right amount of toe room.

When you hold the shoes against the light you can see how light the fabric is and where they have reinforced the powerweave fabric and where they did not. As you look closely at some of the hot spots, you see where the reinforcement has taking place. They reinforced the shoe with an extra layer of fabric on the inside, but at the same time, they punched holes into that layer to maintain the breathability of the powerweave fabric. During indoor sessions, I did not find the shoes notably warm, they let more moist air out than most shoes of leather or synthetic leather. So it appears they breathe well. Wearing these during colder outdoor sessions I didn't feel the cold air rushing over my feet either. So It might be on the warmer end of the scale, due to the fact it is missing vent holes on the bottom. Time will tell, as I haven't worn these shoes during hot summer days yet.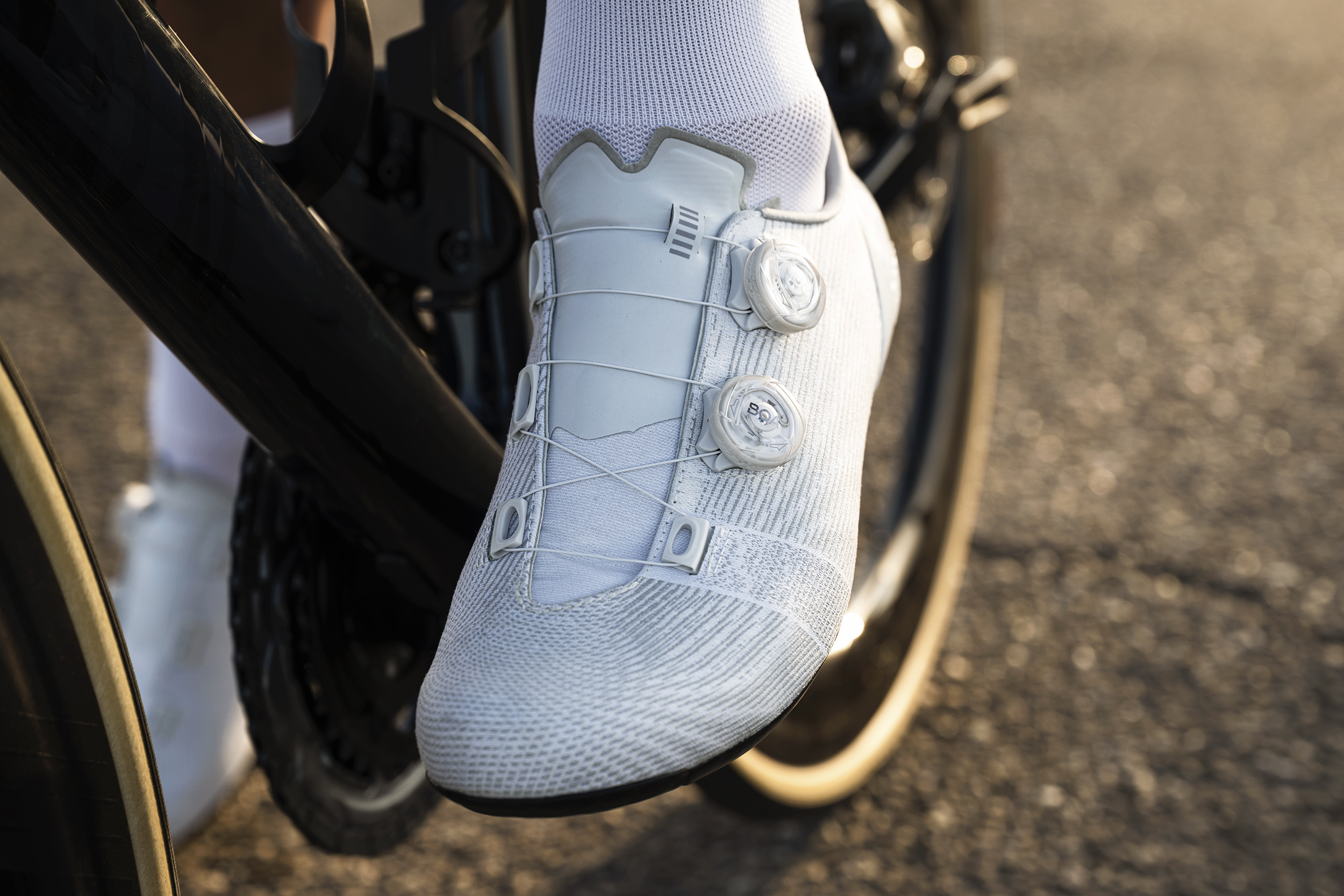 Specifications

The Powerweave isn't waterproof, but thanks to the DWR treatment they can handle spray from surface water, it also helps to keep the uppers cleaner than they'd otherwise be. Go riding in persistent rain and water will get through That said, I was never brave enough to ride these in real rain without shoecovers. The DWR treatment does nothing to ward off dirt, tire scuffs, or chain grease. White may be color of choice for many riders, but do yourself a favor and pick any other color than white, especially if you tend to drip your coffee on a club run. Rapha includes a 12-step guide that shows you the best way to clean your fresh kicks. However, despite my best efforts, my test shoes aren't getting back to "boxfresh"

The tongue of the shoe feels comfortable and soft but I do have some problems with it. It has a tendency to work its way toward the outside of my shoes, as you can see in some of the photos. I find myself adjusting the tongue multiple times during a 100km ride. I have this with some of my sneakers as well, so this could be a personal thing.

Fastening is handled by the two Boa dials with two separate cables tightening the upper and lower areas of the foot. The dials micro-adjust both looser and tighter for quick, on-the-fly adjustments. They're perfectly positioned and snug up evenly over the tongue, with the reinforced and well padded plastic cup with a firm heel hold they ensure no foot movement in the shoes.
The outsole is super stiff and that's great. Since the shoe is mainly made for competition riders, it is important that as much power can be transferred to the pedals. That does not disappoint at all. The danger is that a stiff carbon sole is at the expense of comfort. But this luckily never was the case.

What caught my eye when looking at the outsole is the way it's designed and the attention to detail. How nicely the carbon sole flows into the rubber protection parts of the shoes. The carbon outsole is protected by TPU (thermoplastic polyurethane) treads at the toe and heel. The heel pad is secured from the inside with a bolt and can be replaced. Despite its protection, the glossy carbon part of the sole still scratches quite easily. It's not like with the Classic or Explorer shoes that the sole is completely covered in Rubber, in a Pro Team version one would, of course, expect this to be removed due to weight optimization. Inside, an adjustable two-part insole takes care of arch support. Adjustable in a way of a footbed with customizable arch pads in 3 different heights (Neutral, Medium and High) I haven't tried these because I'm used to riding with my carbon insoles from Solestar, I have to say, these do make a fair amount of squeaky noise though while walking.
Verdict
All in all a great overall shoe, which I think nails it for what it is trying to be, a "Race" shoe. A stiff performance shoes with a comfortable upper that feel ready to race. But stay away from the white ones.

Rapha offers the Pro Team in sizes 36-47, with half-sizes from 40-46, each in a choice of three colors: black, off-white, and purple. The retail price is US$355 / AU$450 / £260 / €310.