Rapha Pro Team Training Jersey + Bibshorts
2020 photos: Stan Koolen
Men's Pro Team Training Jersey
I was pretty stoked when I got the email about Rapha's race-oriented, sleek, and form-fitting Pro Team collection for Spring 2020. I got the opportunity to review some of their latest products. The re-visited Training jersey is Rapha's most popular jersey in its former version. The new Training jersey looks like a jersey that matches my preferences.

Design
The new season's colors look excellent! In my opinion, the two toned light blue jersey is the most classic and stylish design out of the 8 colors that are available. The jersey comes in 8 different colors: Light Blue, Carbon Grey, Orange, Light Grey, Dark Navy, Dark Purple and two special edition printed versions in Red and Orange. The instantly recognisable signature stripe on the left sleeve, pro team logo on the front, and enlarged "RAPHA" logo on the back complete the training day look.

What I love about Rapha (which isn't only unique to them) is that they're always looking to improve. Hundreds of kit brands have launched over the last few years and it hasn't been easy for Rapha either. However, they seem to always know how to separate themselves from their competitors when it comes to design and quality.

The Training Jersey is made with a lightweight, open-structured fabric on the front for wicking and ventilation. On the back, a close-knit fabric provides added sun protection and improved support for carrying food and tools. The elastic gripper bands on the sleeves and at the bottom hem have been updated resulting in a more stable fit according to Rapha.
Fit

I am 190cm tall and weigh 85kg. I always struggle to find the right size when it comes to jerseys from Rapha. A couple of years ago, I had a few Rapha jerseys in various sizes. I had a pro team jersey in a size large, but the jersey was sagging a lot when I was carrying food or other things. I had a Core jersey in Medium (the size was okay), I was able to carry my things in my pockets more on my back instead of my tailbone, but the downside was that it stil was too hard to reach the pockets. The same goes for the classic jersey, although the pockets were easier to reach, the fit still wasn't 100% for me. I know their jerseys always have a longer back than other brands. Most people would have been okay with how the size large fits, but personally I'm more of a race-cut kind of guy and prefer a more short and snug fit. It look liked the Training Jersey was offering just what I was looking for thanks to the new wider grippers, so I ordered the jersey in a size large.

The elastic sleeve gripper and the bottom hem have been updated and are slightly wider. The gripper around the arm doesn't have any silicone. Despite the missing silicone the gripper sits nice around my arm, not super tight but tight enough to keep the sleeves in place. For people with skinnier arms (like most trained cyclists) the grippers might be too wide. This means they won't fit nicely around the arms at the edges and leaves some of the fabric to flap around.

The fit (Large) is fine, as you can see in the photos, although I could have sized down for a more race like fit. I like the addition of the wide gripper along the base of the jersey, some of my favourite jerseys also have this band-like gripper. It sits comfortable around the waist and keeps everything nice in place. The rear pockets are easy to access and the addition of a zipped pocket is very welcome when needing to stash a door key. I don't miss the zip pocket as many have complained about, in all those years I think I've used a zip pocket maybe one or two times. You also get very generously sized pockets, larger than normal, for carrying all the food and spares on training days. A gusset at the bottom expands for extra volume, this was done for good reason. Sadly though, when the pockets are too loaded up, they will start to sag. That's the downside of a more looser/relaxed fit jersey.

Although the fit is a bit more relaxed, it's still fitted enough to avoid being excessively baggy. It offers a all-day comfort with a more forgiving fit. Perfect for longer days in the saddle. But there's no reason why you couldn't use it for racing, size down and you're good to go.

I like the modern extended sleeve length, but it might be too long for some. The thicker elastic gripper at the end of the sleeves can be a bit annoying when bending your arms. A more softer and lighter fabric would have been ideal here. The full-length zip features an easy-glide, lockable puller. The chin guard (known as a zip garage) is a simple fold of fabric over the top of the zip and helps to prevent irritation. If you know Rapha, then you know they care about attention to detail. These are usually the kind of details that make a jersey great.

The fabric is soft and breathable, I've worn it on warmer days 25C and on chillier morning rides around 16C with Rapha's sleevless baselayer. I didn't feel like I was ever overheating or too chilly. On the warmer days it did what it is supposed to do, breathable and wick the sweat away. Overall this is really comfortable to wear and it performed well in these conditions.
Verdict
Training rides are usually very long, so comfort over aero advantage is desired. The fit and comfort are more suited to less speedy rides and that is what the Pro Team Training Jersey is designed for; all-day comfort with a more forgiving fit. Rapha continues to deliver once again with a very stylish and functional cycling top at an affordable price.
Rapha offers the Pro Team Training jersey in sizes XS-XXL, each in a choice of 6 colors and 2 limited print editions. The retail price USD$115,- / AUD$150,- / GBP£85,- / EU€100,-

Men's Pro Team Training Bibshorts

The London based high-end cycling brand launched its Pro Team Training bib earlier this year together with all other items from the Pro Team Collection.

The Pro Team Training shorts is the perfect partner to the Pro Team Training Jersey. The new bibshort is based on Rapha's first Pro Team Bib Shorts, utilizing the same multi panel construction; these shorts make use of a new main fabric that offers support and compression as well as a new chamois pad. The nameless polyamide fabric feels comfortable against the skin and has a pleasantly compressive fit without feeling restrictive.

On first wearing these bibs they felt much tighter than my other Rapha shorts. I find the shorts to fit true to size (size large), if not slightly on a tighter side, more like a race cut, exactly what you expect from a pair of performance shorts designed to meet the needs of professional cyclists who put in big training miles.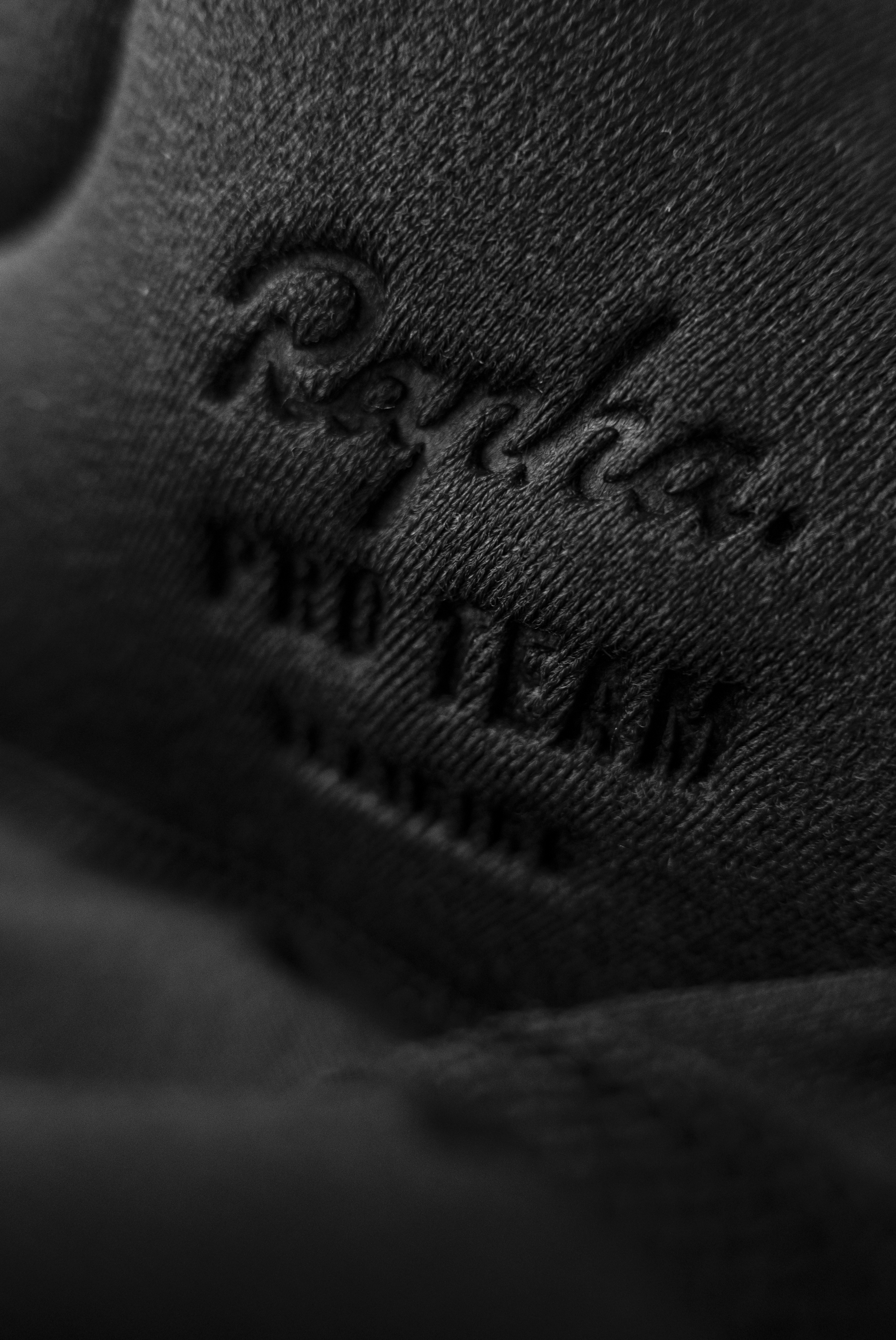 Fit
The straps are not super stretchy. Which means a bit of shoulder maneuvering and some extra time to position them in the right place, this is due the cut and material used in these shorts. Rapha has used a soft and thin breathable fabric with a double hem on the straps which are pretty unnoticeable when riding. It means the upper remains relatively sweat free when pushing hard on the pedals and feels comfortable while being in a race position.

The overall fit is really good, better than expected actually. For a long period of time I stopped looking at Rapha shorts for myself, because I always find the legs too short for my 190cm height. It looked like I was wearing a pair of shorts from back in the days, but the new shorts are almost spot on. I say almost because if they were 1 or 2cm longer they would have had the right amount of coverage. The leg grippers are made of a more elastic material than the main shorts, providing a strong hold on the leg. The same gripper was used in one of Rapha's first Pro Team shorts. It is quite narrow and made from a thick knitted elasticated band which just felt a little too tight some times. It kept everything nicely in place but did leave a noticeable imprint on my legs over time.

Rapha have reworked the chamois on this new generation of Pro Team Training shorts. The real key to any bib short comfort is the chamois. The chamois is constructed using high-density padding, with more padding where the sit bones contact the saddle resulting in more comfort during longer rides. It still features a central fold as part of its design but it is now more streamlined. Long periods spent sitting on the nose of the saddle while pushing hard the chamois performs really well. The pad is very robust and it has retained its original shape. The bonded seams, which are incredibly comfortable and well positioned in the areas that move a lot, have not come undone anywhere. But it's early days to talk about durability.

Rapha sent me the Pro Team Training shorts in black with black straps and logo, the one available on the website comes with white straps and white logo. The Pro Team Training Bibshorts is availble in sizes XS-XXL and retail for USD$190,- / AUD$245,- / GBP£140,- / EU€165,-